We've scoured the Group Accommodation website to find you our top 8 large holiday houses in Italy. Italy has a huge amount to offer for a group trip, from amazing coastline to beautiful countryside and wineries — there really is something for everyone. When it comes to Italian city breaks, Rome, Florence, Venice and Milan are just a handful of the world-class destinations on offer.
Here are some of our favourite Italian villas and houses for you to enjoy: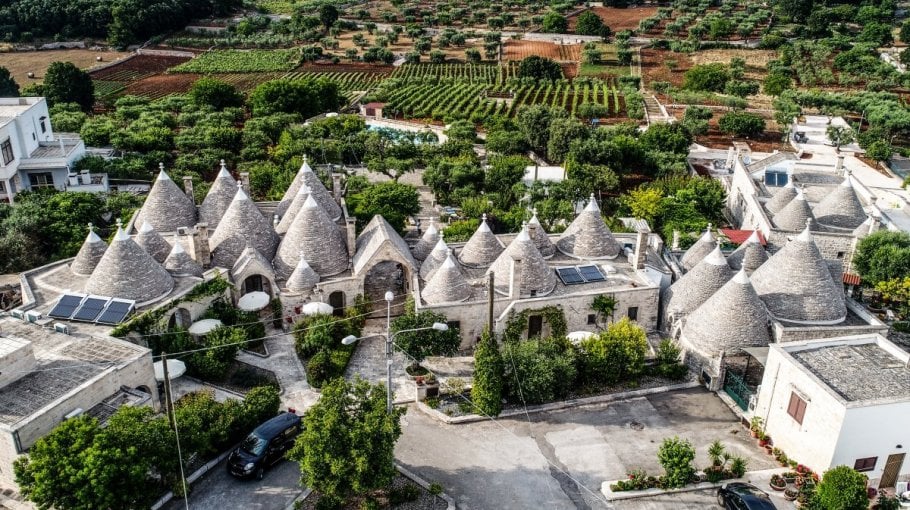 🛏 Sleeps 2 – 28 over 14 bedrooms
🛝 Outdoor play park
🏓 Table tennis
🔥 Open fires
🍽 BBQ
❄️ Air con
🪵 Wood oven & outdoor kitchen
🏊‍♀️ Large pool with jacuzzi
Sleeping up to 28 guests across 10 well equipped 'trulli' apartments, varying in size from 3 bed to studio, these traditional dry stone houses boast unique architecture, and are protected by UNESCO laws. Relax in this peaceful, rural location, and enjoy the stunning valley views from your large pool, which features a deep and shallow end, making it great for kids. The owners are more than happy to help make your stay as easy as possible, by offering breakfast, lunch and dinner. They can also organise activities such as painting, cooking, or fitness classes.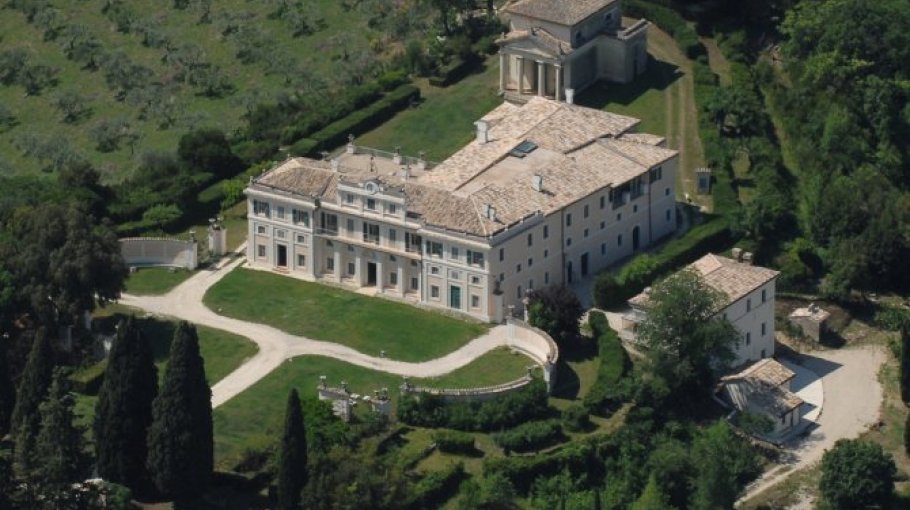 🛏 Sleeps 20 – 39 over 18 bedrooms
🎱 Billiard room
🔥 Open fires
❄️ Air con
🍽 BBQ
🍕 Pizza oven
🏊‍♀️ Swimming pool
Located in the grounds of a late 1700s architecturally designed park, Villa Pianciani truly has the wow factor. The main villa has 11 bedrooms, however if you need more accommodation, you can also book The Annex, accessible via an underground tunnel to add a further 3 bedrooms, or add The Diamond Cottage, sleeping an additional 9 guests and featuring its own private swimming pool. No matter what set up you choose for your group size, you'll find plenty of communal space both indoor and outdoor for get togethers, including family meal times around the pizza oven or large BBQ!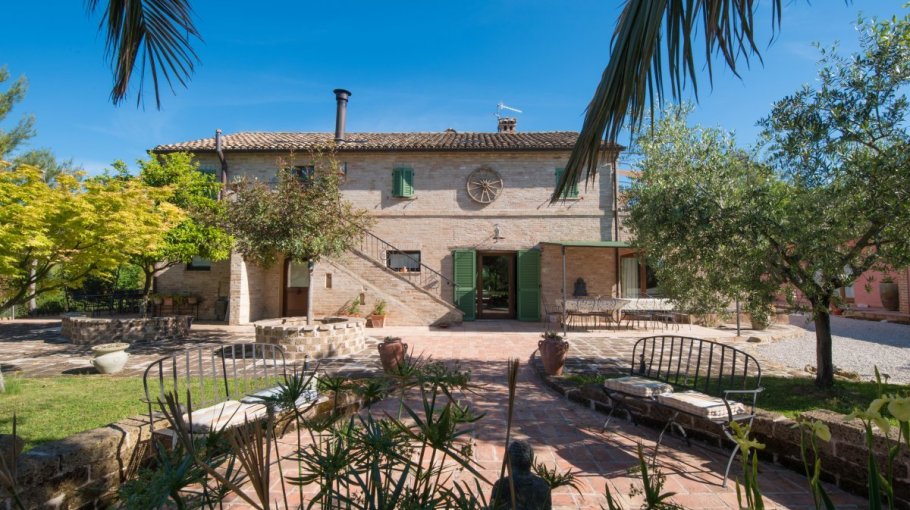 🛏 Sleeps 10 – 28 over 13 bedrooms
🔥 Open fire
🛝 Play area
🏓 Ping pong table
🏊‍♀️ Swimming pool
Set across 3 properties with plenty of space for group dining and socialising both indoor and outdoor, Il Melograno really does have a lot to offer. Located just 15 minutes from pretty, sandy beaches, as well as a variety of restaurants and shops, you'll have plenty of opportunities for days out. You'll also find yourself spoilt on site, with panoramic views from both the swimming pool and roof terrace, and plenty of entertainment for the children and adults alike.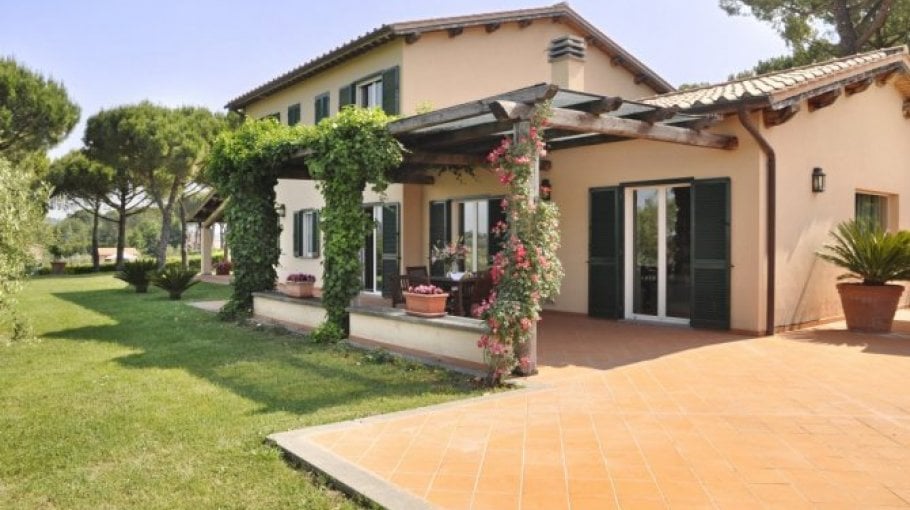 🛏 Sleeps 4 – 24 over 12 bedrooms
🏓 Table tennis
🔥 Open fires
🍽 BBQ
🎾 Tennis Court
⚽️ Football pitch
🏊‍♀️ 2 x swimming pools
In terms of location, you really are spoilt at Tenuta Santa Cristina. The property is close enough to Rome, Umbria and Tuscany for an easy day trip, and if you want to stay closer to home, the peaceful town of Magliano Sabina, with its authentic and unspoilt architecture is just a couple of miles away. The villa is surrounded by vines and olive trees with stunning views from the two swimming pools, and outdoor seating areas. If you fancy getting a bit of exercise in during your trip, you'll find a tennis court, 5-a-side football and table tennis all available on site.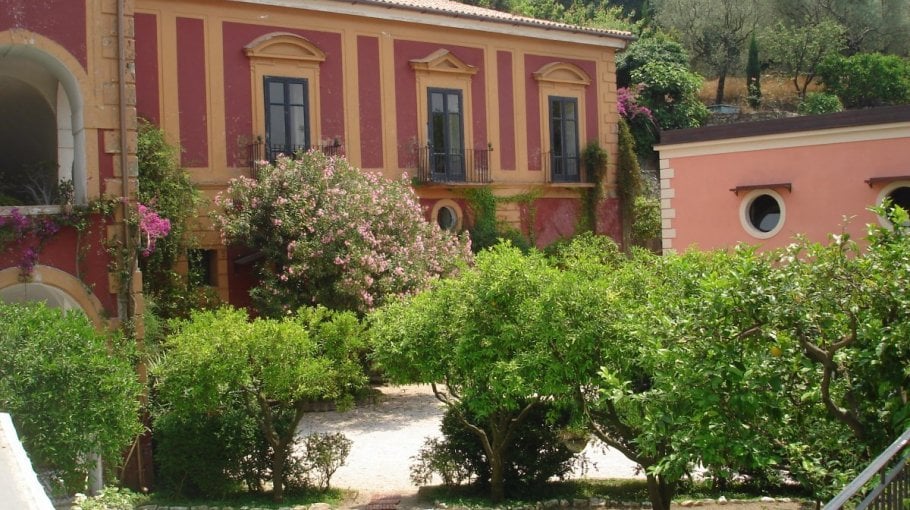 🛏 Sleeps 2 – 16 over 6 bedrooms
🔥 Open fire
📚 Children's games and books
🏊‍♀️ Swimming pool
🍽 BBQ
🐶 Pet friendly
This 18th century farmhouse near Naples comfortably accommodates 16 guests over 6 suites, with the option to push the numbers to 18 if you add sofa beds. From the property, you are in the ideal location to explore Campania, the Amalfi Coast, Naples, Pompeii and Vesuvius, which are all accessible via rail. Each suite has its own entrance, and is tastefully designed for maximum comfort while keeping original decor and features. The site also provides guests with a pretty pool to cool off, and plenty of outdoor seating for family get togethers.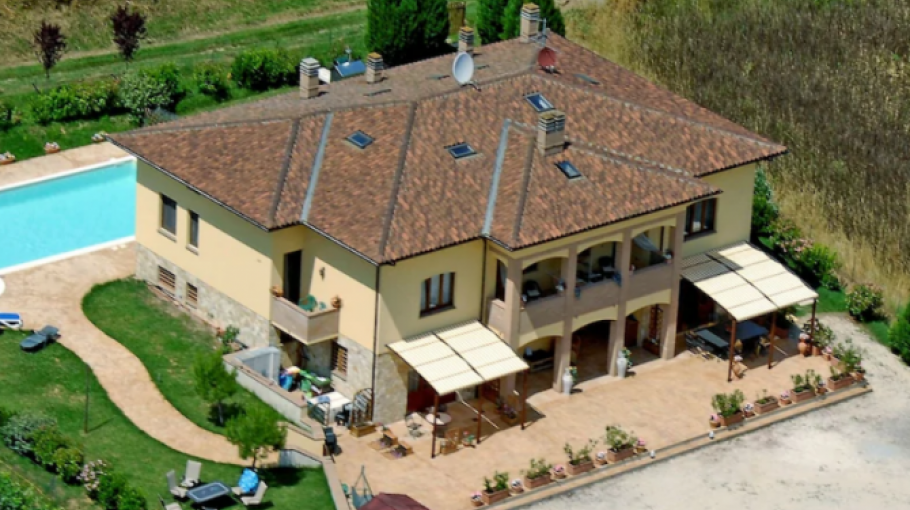 🛏 Sleeps 2 – 14 over 6 bedrooms
📚 Library area
♠️ Board & card games available
🍽 BBQ
🍕 Pizza oven
🏊‍♀️ Swimming pool
🚴‍♀️ Mountain bikes available
With it's stunning views over the hills and sunflower fields, relaxation at this beautiful villa is high on the agenda. Unwind on the pretty terrace with a game of cards, or a book from the library, take a dip in the pool, or wander the well maintained gardens, searching for fruit and olive trees and vines. If you feel like venturing further afield, the Medieval cities of Perugia, Assisi, Todi and Orvieto are within easy reach, or for a day trip, Rome, Ancona, Florence and Pisa are just a couple of hours' drive away.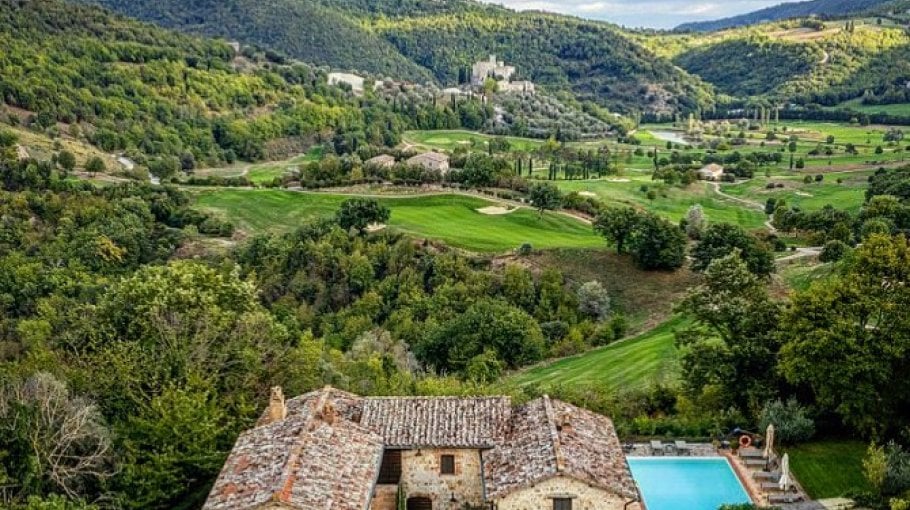 🛏 Sleeps 4 – 12 over 6 bedrooms
🔥 Open fire
🎱 Billiard table
🏓 Table tennis
🍽 BBQ
🏊‍♀️ Infinity pool
🐶 Pet friendly
Accommodation at Villa Capanne is spread across two properties, the main house which sleeps 8, and the cottage sleeping 4. This 600 year old farmhouse has been through a fantastic renovation, keeping the original charm of the building while adding home from home comforts for a truly relaxing stay. Come together to enjoy a splash in the beautiful infinity pool, take a round of table tennis or billiards, or get together for a family BBQ on the picturesque terrace. The area is a golfers paradise with the Robert Trent Jones championship gold course easily accessible.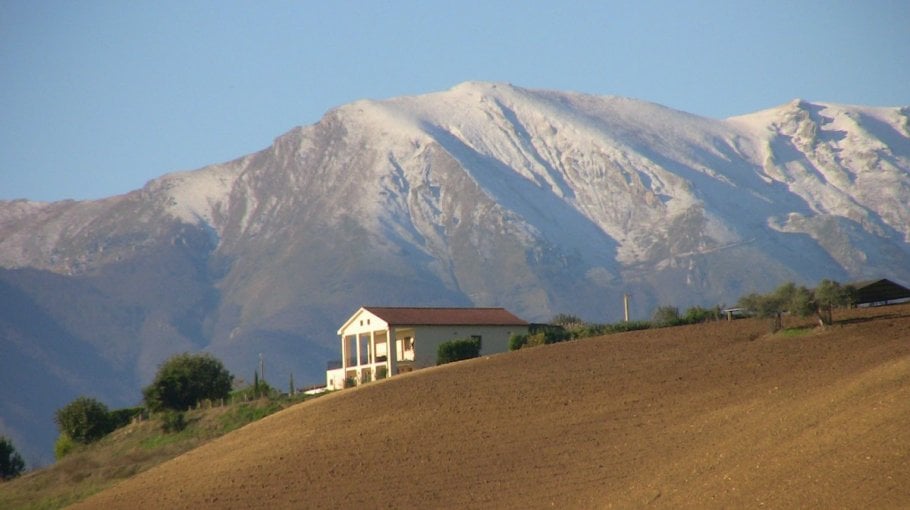 🛏 Sleeps 5 – 12 over 5 bedrooms
🏓 Table tennis
🏸 Badminton court
🏊‍♀️ Swimming pool
🏋️‍♀️ Gym
🐶 Pet friendly
With incredible views over two mountain ranges, as well as being within easy reach of some incredible beaches, you'll feel truly at ease in this wonderful farmhouse. For those of you who enjoy a more active break, you'll find hiking, cycling and canoeing on the doorstep, as well as table tennis, badminton and boules, there's even an in house gym! If relaxation is more your scene, the pool with its beautiful views, and luxury hot tub won't fail to disappoint. Just a short drive from the local town of Penne, and a 30 minute drive from the coastal city of Pescara, you'll have plenty of areas to explore, including museums, shops and fantastic eateries.
FAQ's
When is the best time to visit Italy?
Italy is famed for it's lovely long hot summers, making June – August a great time to visit. However, if you'd prefer a more peaceful break away from the crowds, aim for a spring or autumn trip. You'll still be able to enjoy long, light evenings and balmy temperatures, but without quite as much hustle and bustle.
How is the transportation within Italy?
Getting about by train is very easy within Italy, with the major cities being very well linked. You may struggle more in rural areas, so it really depends on the exact location of your property. Hosts will be able to guide you towards rail links, public transport, or car hire if needed.
Is Italy a family-friendly destination?
Italy really does have something to offer for every generation. Whether this is something super active for the kids, mouthwatering delicacies for the foodies, famous landmarks for historians, or tranquil beaches for peace and relaxation, you are bound to find something to suit every age group.