You've been tasked to plan the perfect family celebration and, although you know it'll turn out to be an extra special occasion, the planning stages are not quite as simple as you first thought they'd be. Luckily, you're more than up for the challenge.
Whether it's your Mum and Dad's diamond wedding anniversary, your older sister's "big birthday" (she'd prefer you not to discuss her age!) or your cousin's engagement, early planning is the secret to success. Whatever the occasion, here's a simple step-by-step guide that'll ensure you're prepared for even the grandest of gatherings.
1. Establish what the celebration is for
Is it a milestone birthday or a momentous anniversary? Or, perhaps, it's a big year for the family in terms of unions, births, and graduations so a commemoration of all the celebrations combined is well overdue!
Whatever occasion you're marking, brainstorm what activities the whole family can do together and ask what you can do to make the trip memorable. This will give you a great starting point for planning the perfect multi-generational gathering.
2. Pick a date
Choosing a date that suits everyone (or nearly everyone) is the first challenge. Everyone has busy calendars so, ideally, you should be suggesting available dates for at least 6 months in advance. Once you've checked with the birthday girl (or whoever your party is for), set up a poll where everyone can vote on dates they are available. Doodle poll works really well for organising this and saves you trying to do it via WhatsApp, where it's really easy to lose track.
3. Choose a location
Before you can pick a place to stay, you'll need to think about the location. Could it be somewhere you've always wanted to go, a place that's sentimental for you and your family or does it need to be convenient for older members of the family to travel to?
You've also got to consider whether your chosen location is weather-dependent, especially if you're going for a holiday in the UK. If the dates you've chosen aren't during the sunnier months of the year, perhaps a trip to the Cotswolds or the Lake District are more desirable than a wet and windy beach.
Easily calculate and split the costs of your family celebration by downloading our budgeting spreadsheet. Click the link and get yours today.

4. Select your ideal property type
Dreaming up some ideas about where you'd want to stay – such as a townhouse, country estate or cluster of cottages – will give your search a solid starting point and make mapping out your needs much easier. Are you splashing out on luxury accommodation for an extra-special occasion? Maybe you're an outdoors-y family and you'd prefer bunkhouses or glamping?
Expert tip: GroupAccomodation.com makes this search simple – filter by location, distance from you, catering options, activity and more! This myriad of options makes whittling down your ideal property easier than ever.
Explore what's out there so you can shortlist what's essential to your family celebration – a games room, proximity to shops, a hot tub; the possibilities are endless!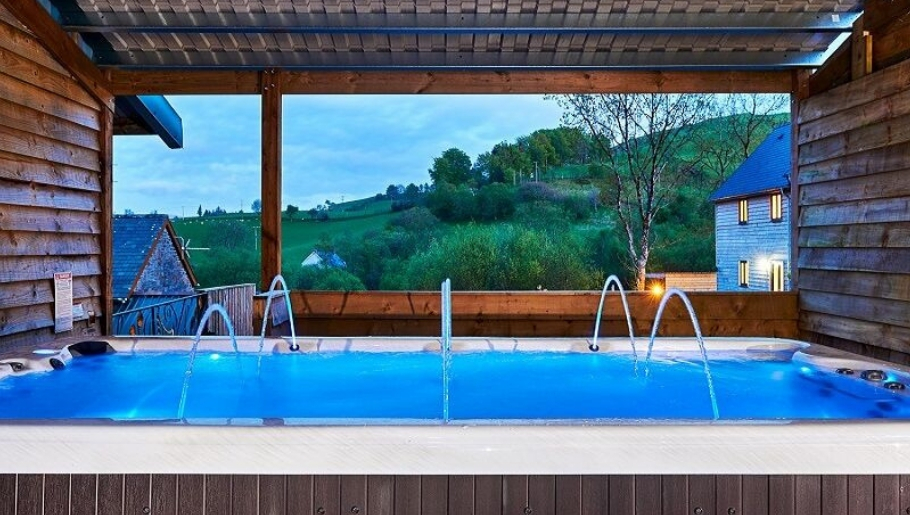 5. Properly plan your budget
Doing some preliminary research around properties should give you an approximate idea of budget. This will help you share a variety of options with trusted family members. Don't get everyone involved in choosing the perfect accommodation. You know which family members will be really helpful and which ones just care about how big the TV is.
Budgeting sooner rather than later is key to preventing the financial details from spoiling the fun later on. You could make a budgeting spreadsheet to help you break down expenses or establish a group kitty.
Need help mapping out the costs of a large family holiday? Don't miss our 6 secrets for budgeting your family gathering.
6. Book an amazing place for everyone to stay in
By now, you should know exactly what kind of accommodation will provide the ideal backdrop for your ultimate family getaway, the most convenient dates and the region you want to visit.
Before you get carried away with the whirlwind excitement of the selection process, there are a few key considerations that mustn't be a last-minute thought. For example, if your party is diverse, is the property child and pet friendly? Does it have disabled access? These may seem like small details now, but could be the difference between key members of the group being present or absent!
Now for the fun bit – get it booked and put the dates in your diary!
7. Organise payment
As previously touched upon, payment can be a sensitive topic. As well as the accommodation costs, you'll need to factor in the price of food, drinks and activity expenses (psssst, this is where your spreadsheet will really come in handy!).
Expert tip: Send reminders close to payday so that people feel more motivated to pay.
8. Make a checklist
With all the chaos of planning underway, it's easy to forget something important – like beach towels or your bluetooth speaker. Checklists are not just for packing your suitcase – they're undeniably useful for planning holiday logistics, too.
Your checklist will be personal to your occasion, but you could include things like:
Buy dog food
Pack a first aid kit
Book the fancy restaurant for the main event
9. Think about personal touches
If you want to set this holiday above and beyond the rest, make little details your priority. Here's some ideas for what you could do to really impress your clan:
Invest in some disposable cameras and distribute them to members of your family. At the end of the trip, get the film developed and create a vintage-themed photo album. Not only is this a touching gift, but it also immortalises the precious memories you've made over your time away.
Find a gourmet bakers and order a personalised cake especially for the occasion,
Buy decorations, such as bunting or funky placemats, that work with any property and add a bit of home-comforts to your surroundings.
If you follow these simple steps and devise your own plan, organising the perfect celebration will be an incredibly rewarding and memorable experience that your family will talk about for years to come!
Take the stress out of planning and download the Ultimate Budgeting Spreadsheet for Family Celebrations.