6 Incredible Ideas For A Small Intimate Wedding
For quite some time we've seen a noticeable uptick in couples opting for a more intimate wedding. In fact, even "micro weddings" (weddings of up to 50 guests) have become an increasingly attractive choice.
Whether your big white wedding has been called off due to unforeseen circumstances or a lack of budget, or you've always wanted a more low key affair, we've put together lots of small wedding ideas and inspiration so that you can ensure your big day is everything you wanted and more.
Feeling a bit on the fence? Let's first take a look at why a smaller, more intimate wedding might be the better choice for you and your partner.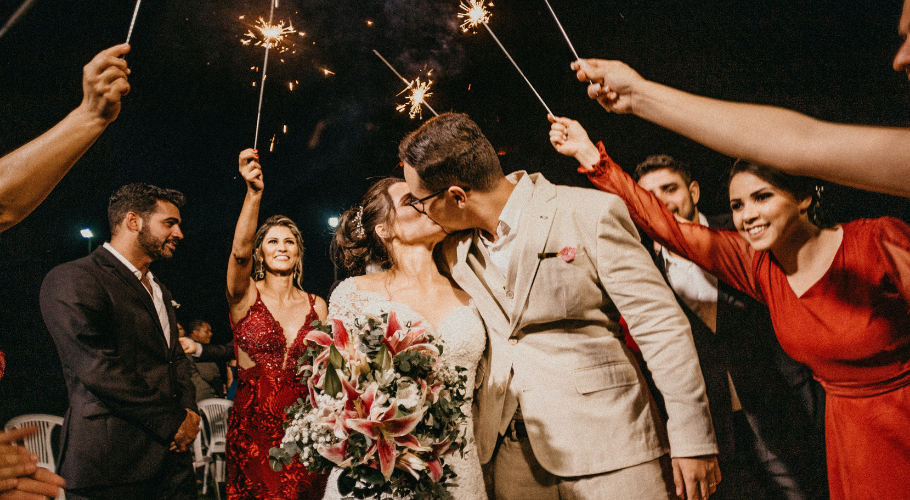 Why have an intimate wedding?
We're flooded with extravagant and glamorous weddings in the press, on tv and in bridal marketing. But is this really the best option? While big weddings are a great occasion to get everyone you know and their plus ones to come to a huge social event, a smaller wedding can offer a completely different edge.
Intimate weddings are often cheaper, and let's face it, you're more likely to love what you spend your money on if you're only covering the costs of your nearest and dearest

You can create a more personalised experience for your exclusive group of family and friends, with bespoke trinkets and favours. Make it even more of a day to remember for your small group.

You'll spend more time with your guests, with the ability to create great memories with each and every one of them.

You can enjoy a more private event – without your partner's second cousin's girlfriend who you've never met before.

You'll have a far more relaxed experience planning a wedding for 15 people, than one for 200! Who wants to be stressed planning their own wedding?

How to plan a small wedding
But how do you go about planning a more intimate wedding? The principles don't differ far from a bigger wedding, other than there is less to organise and more time to customise the experience.
How to narrow down your wedding guest list
The main drawback when it comes to more intimate celebrations is navigating a smaller guest list. Who do you invite to a small wedding? It can be difficult to work out exactly who you want to attend, and choose a select few without offending anyone. To help make the decision easier, here are a few pointers:
Keep the day to adults only. While this might be a difficult decision to make, it can actually also open up options for different venues that only cater for adults. But do remember that if you apply this rule, it will likely be awkward if you make an exception for someone. You can't have favourites!

Limit plus ones, or don't offer them at all. When planning a small wedding you can severely cut numbers by not allowing plus ones – and also make it a more personal and private event too.

If you're really struggling to juggle between friends, why not keep the ceremony to simply your immediate family? This can help to avoid any arguments.

It may also be worth questioning how you'll manage those not invited to avoid any awkwardness. To make them feel special, you could send them a handwritten wedding announcement with photos from the day. You may also want to consider streaming the ceremony live!

Make sure to keep the final list that you and your partner decide on private. If you have come to a considered decision together, the last thing you need is close family and friends giving you "what ifs".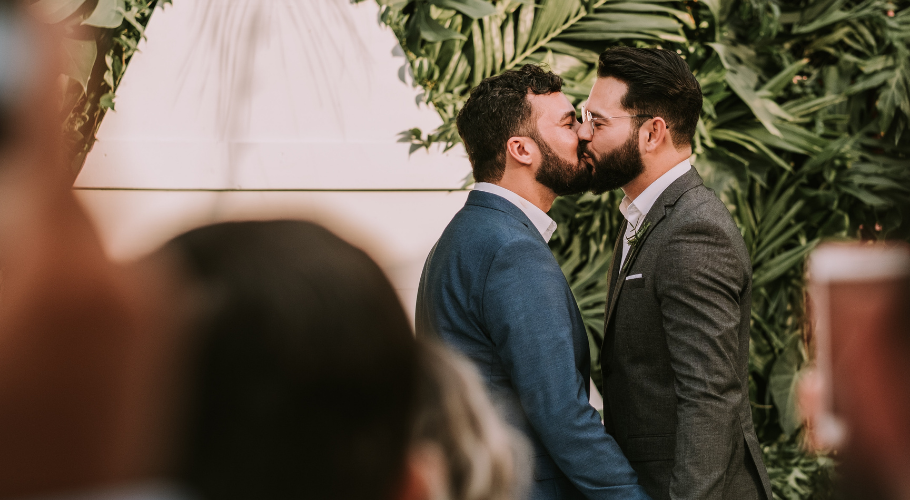 How to balance the small wedding budget
So you might have saved up for an amazing wedding day, but you've decided to shrink your guestlist. You no longer need to fork out large sums for a huge wedding party! This is a perfect opportunity to rebalance your budget and work out what you actually want to spend money on.
No corkage weddings are a great way to save money, allowing you to organise the alcohol for your big day — check out our guide to no corkage weddings for more info.
Small weddings are perfect if you want to add more exclusive touches. Having more wiggle room with a budget allows you to get creative and make bespoke elements for you and your wedding party. Why not send handwritten invitations or a welcome guest box, and create bespoke table settings for your intimate group of guests?
You may also want to spend money on higher quality services. Focus your budget on services such as a great photographer. They can catch more intimate moments of your smaller group, capturing memories that you can cherish for years to come.
And if you decide not to splash out on the beautiful designer dress or more decorations, you could always save the cash for your honeymoon!
Make your small wedding all about you and your guests
The best thing about a more intimate wedding is that you can make it completely personal to you and your guests. You can really add those touches that you couldn't manage with a larger wedding party. You could even include activities to do with hobbies that you and your partner really enjoy, whether that be sports or any other activity.
You can also do it how you want. You don't have to stick to a rigid schedule and tailor it for guests that are arriving. You could even get married at sunrise or sunset if you want to!
Small wedding set up ideas
Once you've sorted your guest list, it's time to think about how you want to structure your wedding, and make this day really your own.

Small wedding table ideas
A huge element of your intimate wedding is of course how you'll organise your guests' seating. Luckily for you, you're less likely to need to plan your seating around who gets along, or how they know the couple. Yet with a smaller party, you'll need to give more consideration to how you might set out your tables and seating arrangements.
Consider one long banquet table for an intimate dinner party feel

If you'd like the guests to be able to socialise with the whole group, consider an l-shape or u-turn table

Or if your wedding is a more casual affair, you could opt for less formal seating arrangements such as benches and stools to suit the occasion.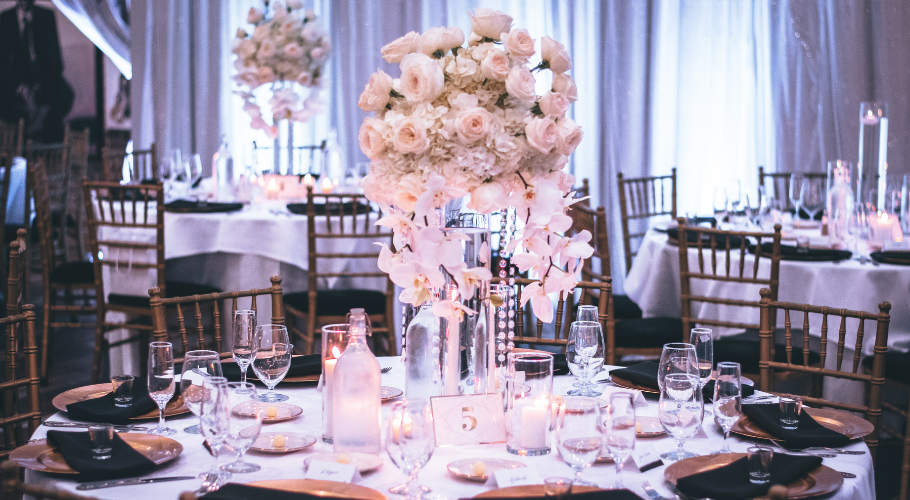 Entertainment ideas for your intimate wedding
When it comes to adding the final touches to your small wedding such as entertainment, you've got a wealth of options. With the benefit of a smaller group, why not make it more interactive? Get rid of the traditional speeches, and create an open mic atmosphere to give everyone the opportunity to speak.
You could also make the most of a smaller group and have games. Create a special dinner party feel with your favourite board games or more interactive versions for a more low key event with friends.
Why not turn the event into a whole weekend? This is becoming an increasingly popular choice with many couples hiring out a large house, inviting their guests to stay and turning the celebrations into a 2, or even 3 day event.
The best small wedding locations
So where do you want to host your intimate group of family and friends? Would you stay nearby or whisk them away? A small wedding is the perfect opportunity to fulfil your desires of a beach wedding abroad, or even a snowy escape. At Group Accommodation the options range from French chateaux in the wine country to luxury villas in Greece, palaces in Poland to Tuscan monasteries, and so many more.
But if you'd rather stay at home for your wedding, there are plenty of beautiful intimate wedding locations in the UK. Choose from country manors, farm cottage complexes, beach houses, or even glamping for your small wedding.
Why not also take a look at accommodation nearby adventure or activity sites so that you, your partner, and your family and friends can enjoy mutual hobbies over the celebratory weekend. From spas to scuba diving, you can tailor your wedding weekend location to your interests.
Too much choice? If you're stuck on the exact type of venue you should choose, we've put together a useful guide to help you decide.
You should now be ready to get planning your big day! If you're still not entirely sold on a smaller affair, but are keen to get married soon, why not marry now and party later? You can always have a micro wedding, or 'minimony' and get married surrounded by only your closest relatives and friends, and celebrate with everyone else at a party later.
Ultimately remember that it's all about what works best for you. It's your day after all! A small wedding may offer you the opportunity to really craft the wedding experience that you and your partner want, but if a big white wedding is what you've always dreamt of, it might be worth waiting until that day can come.
If you're planning a small wedding with overnight guests, browse our range of intimate wedding venues with accommodation now.